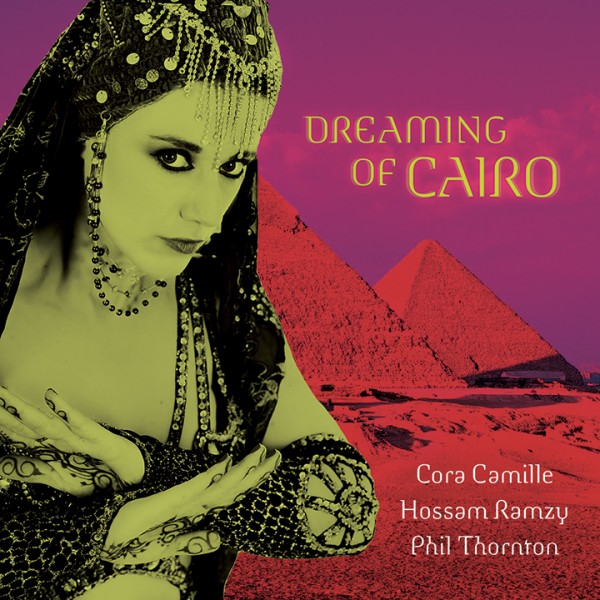 Cora Camille announces her album release "Dreaming of Cairo" in which she collaborated with Hossam Ramzy, Egypt's "Ambassador of Rhythm" and the world's leading name in Egyptian dance music, and with Phil Thornton from the United Kingdom who is recognized worldwide with over 2 million in sales for his solo ambient albums.  The album also features guest musicians from Cairo, Egypt performing solos intertwined into Camille's unique twist of fusing traditional middle eastern music with club-inspired American electronic music.   The album is the culmination of years of work recorded in studios in St. Louis, Cairo, and Ramzy's and Thornton's studios in the United Kingdom.
Camille began work on the music for the album while in London, U.K. and was inspired by her travels to Malta in the Mediterranean.  She is best known for work with her band Final Veil which produces music that blends eastern and western influences.  The album includes remixes of the songs by Final Veil as well as instrumental versions for bellydance performers.  Camille met Ramzy and Thornton while living in London to teach history and study classical Egyptian music.  "Cora has a great vision of connecting modern electronica with traditional Egyptian instruments!  Her enthusiasm for the genre was most inspiring!"  said Thornton.   
The album will be released on iTunes and Amazon in April 2016 and will be celebrated at a release event on Saturday, April 16 at 7pm at Kranzberg Arts Center, 501 N Grand Blvd, St. Louis, MO 63103.  The show will feature live vocal performances by Cora Camille, interpretive bellydancers, a performance by Cora's band Final Veil, and a live experimental video performance by Zlatko Ćosić.  Ćosić is a video artist born in Banja Luka, Yugoslavia. His work spans from short films, video and sound installations to theater projections and live audio-visual performances. Ćosić's artwork has been shown in over thirty countries, for which he has received a variety of recognition.  For his performances, Ćosić creates a visual montage from a variety of original videos, processed and mixed in the moment, responding to the sounds produced by musicians. "Cora's performances are very inspirational, and I love collaborating with her. The ethnic undertones in her songs evoke powerful visuals that I collect for our performances, and I enjoy my live video processing while listening to Cora's music."  The live music and video production will be accompanied by experimental bellydance performances by Kandi Grossman, director of Moon Belly Dance Company of Columbia, Missouri and Ami Amore, director of St. Louis' Exotic Rhythms Bellydance.  Both Grossman and Amore have gained national reputations in the bellydance community for their dramatic and creative performances.