Arabian Nights @ The Sheldon Concert Hall
June 2 @ 7:30 pm

-

9:30 pm

$12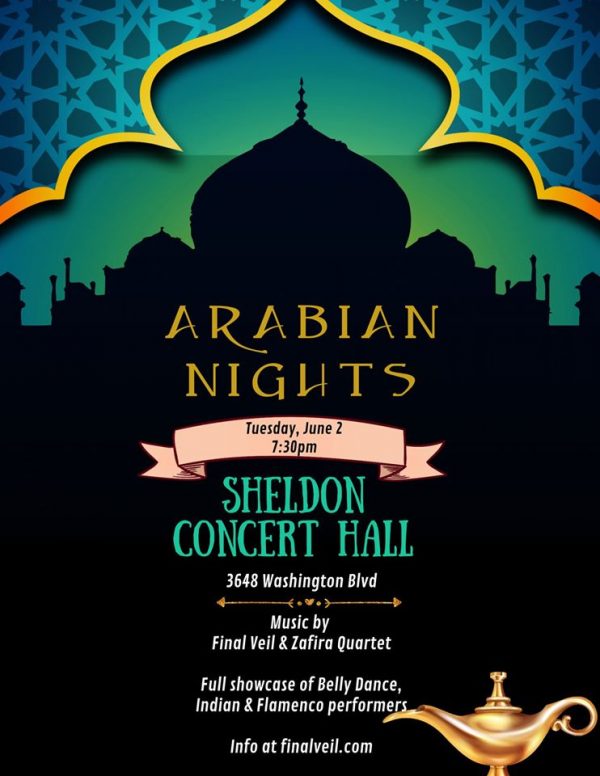 A collaboration of world musicians and dancers unprecedented for St. Louis region will be featured in the local production of "Arabian Nights" at The Sheldon Concert Hall at 3648 Washington Boulevard on Tuesday, June 2, 2020 at 7:30 pm.  Final Veil will play their unique blend of middle eastern bellydance electronic and rock music fused with beautiful electric string arrangements from Zafira Quartet. The music will be accompanied by a full showcase of the region's top bellydancers including Moon Belly Company from Columbia, Missouri, as well as Indian traditional dance from Dances of India and Spanish flamenco dancing from Diana Sanabria from Chicago.  Also featured are St. Louis favorites Aalim Bellydance, Ami Amore and Alena Volta of Exotic Rhythms Bellydance, Salwa, Korvina, Katie Raks Bellydance, Azza, and April Joy. St. Louis space rock legend Tory Z Starbuck will complete this diverse line up.
"The fusion of old and new sounds in the music and the collaboration of dancers that are blending ancient with modern movement makes this show a cutting edge experience for lovers of world music and dance that is rare here in the midwest.  We are honored to bring this to the Sheldon because of the amazing acoustics in this venue and their rich and vibrant history of supporting the best in world music," said show producer Cora Camille.  
Tickets will be available for purchase at the door only for this event.  Tickets are $12 for adults and $5 for children 12 years and under.
ARABIAN NIGHTS
Tuesday, June 02, 2020 @ 7:30 PM
Featuring Final Veil and Zafira Quartet
"Arabian Nights" featuring Final Veil and Zafira Quartet's electric strings is a fusion of world beat, EDM and rock music. The evening will also include a full belly dance showcase! Visit finalveil.com for more information.
TICKET PRICES
$12 general admission at the door
$5 for children 12 and under